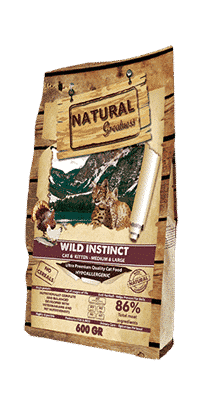 NATURAL GREATNESS ultra premium food for cats of all ages and for all breeds is made from a very high proportion of meat. This should be the daily carnivorous diet of your cat, just as it was for its ancestor the lynx.
That's why almost all Natural Greatness variants contain no grains and are hypoallergenic.
Supplemented with only natural ingredients like fruit and vegetables and only natural additives of the highest quality and digestibility.
Natural Greatness recipes help your pet to have a healthy skin with a shiny coat and increased vitality.
Display 8 Products per page